SANDY BAY LIGHTHOUSE MINISTRIES
For the last X years, SouthEnd has been a part of sending teams of teens and adults down to Roatan, Honduras to help with the minsitry of Sandy Bay. Together with Orsy, Banesa and the staffof Sandy Bay our groups participate in building projects that will help those in Honduras to provide better care for the children God brings to this ministry. Along with building projects and day excursions the team gets to interact with and love on the children in this home who desperately need God's love. Be a part of something incredible and have your eyes opened to the needs that surround us.
TRANS WORLD RADIO | JEREMY & HEIDI MULLIN
Trans World Radio is an organization with a mission to speak hope to the world through radio and online broadcasting.  They currently are involved in a global outreach of 190 countries, enabling native speakers to hear hope and the gospel in over 230 languages.
Jeremy and Heidi served with TWR in Vienna, Austria, as Manager of Broadcast Computer Systems at Trans World Radio Europe and also as Computer and Electronics Technician at Trans World Radio (TWR) Canada. They are now serving with TWR Canada in London, Ontario and have five children: Tristan, Madelyn, Nathaniel, Luke and Matthew.
Currently Heidi balances life at home with the children while coordinating and managing the household while Jeremy is busy with IT challenges in keeping the office computers functioning.  He is also helping to produce a new program that will eventually be posted on twr360.org which allows TWR's content to be available on the internet.
GOODSEED | TROY & NAOMI JOHNSTONE
When it comes to missionary work, the Johnstones have realized the need to be flexible and help out in many areas beyond their assigned roles. Troy's formal responsibilities currently include video production, IT help, teaching at seminars, sitting on numerous committees and on the Boards for GoodSeed UK & Europe. Naomi is the Hospitality and Social Coordinator for our Canadian ministry, Proofreading Coordinator and a writer, when she's not busy being mom to their two daughters and son.
WORD OF LIFE | EVAN & FIONA EVISON
Evan is in charge of the finances for the entire Canadian Word of Life ministry and is the National Director of Support Services. Fiona is involved in music team training at the Word of Life Bible Institute, privately teaching music, and as the administrator at South End. They have four adult children and three grandchildren. They give thanks that South End stands with them as their church family in prayer & support.
VENEZUELA | KEN & MARY ANN JOLLEY
As members of a church planting team in Caracas, the Jolleys were active in outreach and evangelism to the middle and upper class in a suburb community called "La Boyera". For the first 15 years the Jolleys were involved in the discipleship of new believers, ministry training, pastoral care and counseling through breakfasts, Bible studies, marriage and family enrichment and special events.
After 25 years of ministry in Caracas, Venezuela, Ken has an ongoing ministry to the Spanish- speaking world from his home base in Pike Bay, Ontario. The ministry focus is upon equipping and mentoring individuals for service in God's Kingdom globally. Ken is also a Head Facilitator and trainer for the Kairos program (www.kairoscourse.org), which educates and mobilizes local churches in global mission. He is involved in Canada and Latin America in overseeing the launch of the program in local churches and the training of course facilitators.
Ken and Mary Ann have two adult children, Andrew (married to Jennifer) and Megan.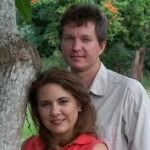 ETHNOS CANADA | DAVIE & MARIE JANK
WORD OF LIFE – CZECH REPUBLIC | HONZA & ELYSE HALIK
We are Honza & Elyse Halik serving with Word of Life in the Czech republic. We could summarize the main focus of our ministry in three parts.
1) Reaching the youth through the Student ministry programs. We are currently working with two Bible clubs. Our desire is to train those in the leadership to become godly leaders and equip them better for their work.
2) We are involved with Music Ministry. Honza is a gifted Trumpet player. He is using his gift to serve the local churches and as a tool in different outreach activities.
3) We are involved in Christian Camping. The Lord entrusted Word of Life Czech with a wonderful camp propriety where we can welcome hundreds of campers every year.
Our goal is to reach these youth/kids with the powerful gospel of Jesus Christ.
We are passionate about reaching the youth of this country with the greatest message of all!
BRAZIL | ROBERT & GLADYS LUNDY
Since they moved to Barra do Corda, in Maranhão state (in 2008), Robert has had full-time responsibilty for maintenance and administration at the mission property. This includes seven homes, a conference centre, a guest room, a workshop and a large campus. Gladys is a teacher and treasurer at the mission's Bible institute for indigenous people. It is called CTBCH – Carl Harrison Bible Training Centre
YOUTH FOR CHRIST | CORNERSTONE YOUTH DROP IN CENTRE
ETHNOS CANADA | BOBBY & SANDY JANK